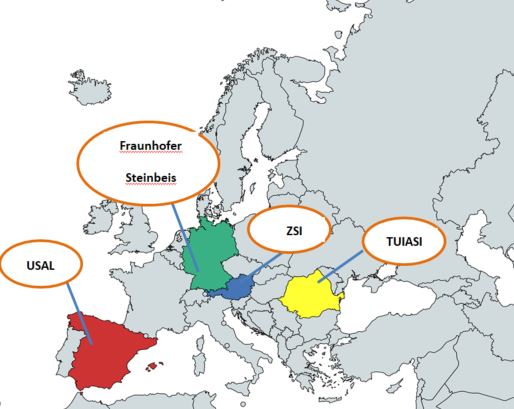 The BrainTwin consortium covers 4 EU countries: Romania, Germany, Austria and Spain. It links the Technical
University Gheorghe Asachi from Iasi (TUIASI) as the project's main beneficiary with two internationally leading research institutions from Germany (Fraunhofer Institute for Manufacturing Engineering and Automation) and Spain (University of Salamanca), as well as with two long established project management and research institutes from Germany (SEZ) and Austria (ZSI).
The complementary and synergetic interactions between these four project partners are critical to the project's success. Partners have been chosen against the background of their specific expertise and the contributions they can make to the project. This deliberative approach is well reflected in the WP structure (WP1-7) and in the project's hierarchical management that attributes each partner with the lead management of at least one WP (TUIASI: WP1, WP2, Fraunhofer: WP3, WP4, USAL: WP5, SEZ: WP6, ZSI: WP7).
Find out more about the individual partners on their respective profile.